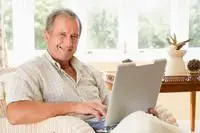 What is tele-counseling?
Tele-counseling is a new, more convenient, and more affordable way to receive behavioral healthcare. With tele therapy you can see me from home, the office, or on the go, via phone or secure video—on your schedule. My HIPAA-compliant teletherapy service is easy to use, and requires no special hardware. It's behavioral health therapy made easy that is secure and confidential . This is a convenient and effective way to stay connected and continue our counseling sessions when you are traveling, cannot access mental health services because of distance, need to connect quickly, are ill, or weather prevents you from coming to my office in person.
Does tele-counseling work just as well as face-to-face sessions?
Yes! In fact, in a 2013 study conducted by clinical researchers from the University of Zurich, it was determined that patients who received psychotherapy for depression via the Internet had outcomes that were just as good, if not better, than the same number of patients receiving conventional face-to-face therapy (53% vs 50%). In addition, 95% of those patients who received telehealth services were satisfied with their experience, versus 91% of patients who received conventional treatment. Both groups of patients in the study described their visits with their therapists as "personal."
What are the common issues I treat on-line?
I am trained to help you with a wide range of concerns, including:
■ Addictions, including sexual addictions ■ Gay/Lesbian/Bisexual/Transgender issues ■ Life changes
■ Trauma and PTSD ■ Men's / Women's issues ■ Grief and loss
■ Depression ■ Relationship and marriage issues ■ Stress/Burnout
■ Anxiety & Panic disorders
■ Obsessive Compulsive Disorder (OCD)
■ Postpartum depression
■ Other
Is tele-counseling right for me?
Tele-counseling is an excellent option if you're looking for a more convenient, private, and affordable way to receive behavioral therapy. It makes it easy to get the help you need without the hassle, by giving you the flexibility to schedule therapy at a time that works best for you, and without the need for travel time, waiting rooms, or office visits. I can help you manage stress, adapt to life changes, and navigate obstacles—whether you need just a few appointments, or a long-term course of therapy. I also specialize in more specific issues, including sexual issues, anxiety and mood disorders, marriage counseling, LBGT issues and more.
Where can I have my appointment?
You can have your online appointment anywhere you feel comfortable that has wifi connection. With teletherapy, it allows you to have an appointment from the comfort of your own home. Teletherapy is offered to all individuals, and couples in the states of Californa, and New York.